If you are looking for some wonderful family friendly Airbnb options for Progreso, Mexico you have come to the right place!!!
My family and I have been to Progreso twice now, each time for about a week. On both occasions we stayed in vacation rental properties. Since we were so excited about Progreso the first time we went, we brought Grandma and her friend along with us the 2nd time – and therefore had to find a bigger unit to accommodate us.
Have I ever told you how much I love Progreso? Well I love it! It just ticks off all the boxes for a fabulous family vacation for me!
But, you can read 7 reasons why you need to visit Progreso here!
Or, Read Our Cheap Family Vacation to Progreso (for 1/2 the price of Playa Del Carmen) here to find out the many things to do in Progreso and why it has all the ingredients to make a perfect budget family vacation destination.
*This post may contain affiliate links in which I would earn a small commission at no extra cost to you.
---
Hotels in Progreso
There are several hotels in town as well, but you get way more bang for your buck with an AirBnb plus you will be grateful for the extra space if you have a family! However, if you are only in town for a short while or don't need extra rooms for kids, a hotel may be easier and more affordable.
---
Now we'll get to what you've been waiting for! Below are my reviews on 2 amazing vacation rentals in Progreso that are walking distance to all the important things – beach, restaurants, and stores! The first is a 3 Bedroom (6 person) unit, while the second has 2 bedrooms (for 4 people).
Our second time visiting Progreso (with Grandma), we opted to rent a large 3 bedroom beachfront apartment. And the view was amazing!!! I couldn't get enough of it!
Every morning we would get up with the kids (around 7 am), and have coffee in the "sunroom"! This sunroom, as I have decided to call it, was originally a balcony overlooking the ocean that the owner enclosed with windows. And what a view it had!
There was a plastic table and chair set and even hooks on the wall to hang the hammock. We would sit every morning, coffee in hand, and just stare at the turquoise and blue hues of the ocean. Usually we cracked a couple windows so the breeze off the ocean would flow through…this was enough to keep the place at a decent temperature in my opinion. Look at that panorama! 👇🏻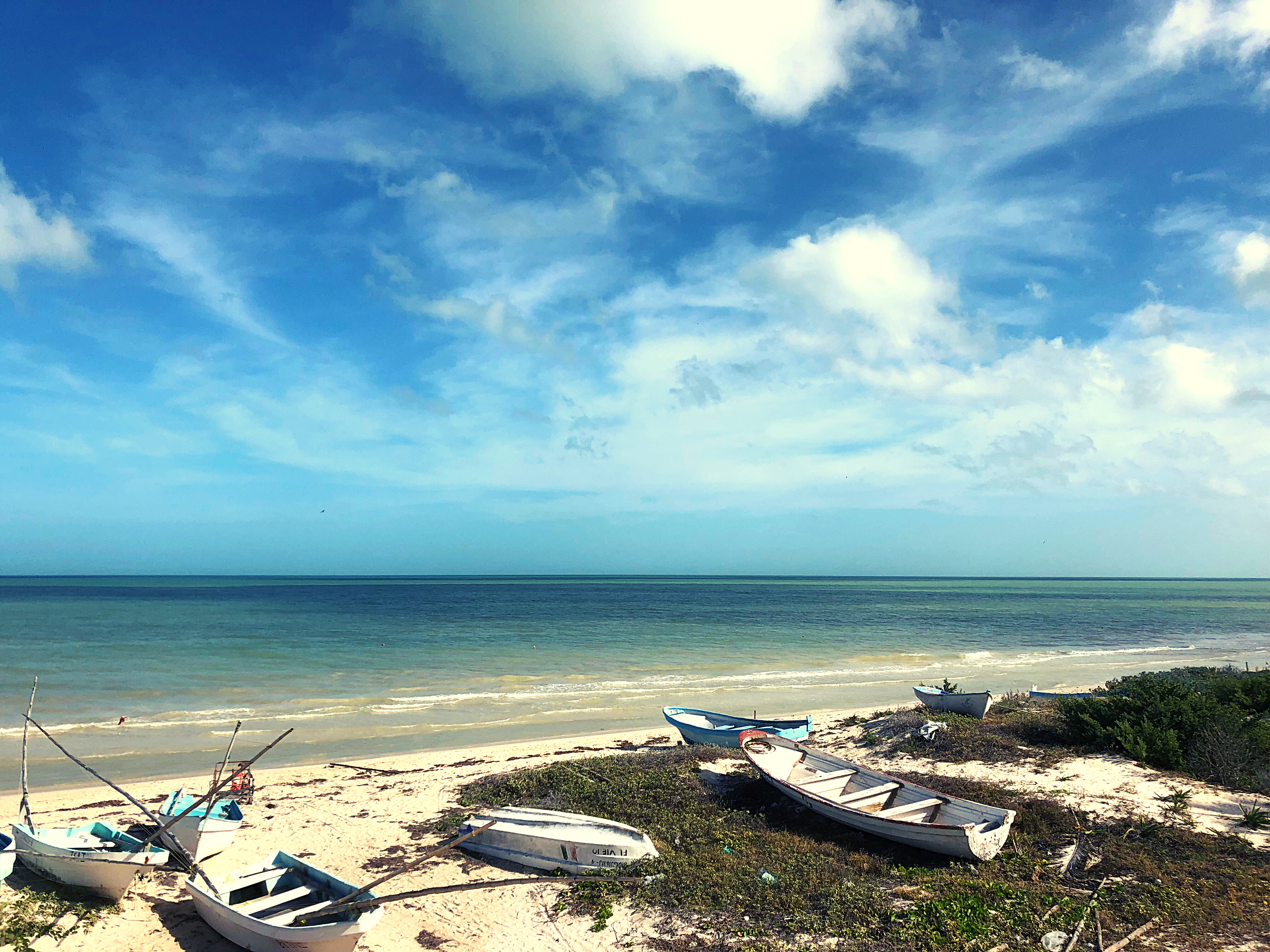 Read about my Yucatan Vacation Cost Breakdown here!
---
Great Location
This Progreso Airbnb was located about 4 (possibly 5) blocks from the east end of the Malecon (where the Progreso sign is)! It was far enough from the action to be in a quiet, residential neighborhood but close enough that we could easily walk with the 3 kids. Usually we took the street since we had baby in a stroller (with all our stuff!) but you could also walk along the beach.
Silcer Beach Club is only a couple blocks towards the Malecon, La Antigua (a delicious and classy restaurant) is another block past there. Various other restaurants can be found all along the Malecon and the streets going toward the main drag (calle 80 or 80th street). There are several little convenience stores and even a small grocery store about 5 blocks away as well! (The grocery store is inland, away from the ocean.) And, during one of our daily walks, we encountered Bistro Del Mar only a block from our AirBnB! This place has fabulous pasta!
Besides restaurants, there is a bar called Faces kitty-corner to the apartment building. I only noticed it one wednesday afternoon during a happy hour – the place was packed with expats and blasting some oldies! Looked like a fun spot for the retired crowd! Otherwise, I never noticed it open or being loud at night or any other time!
---
Amenities and Rooms – 3 Bedroom Airbnb
*Rooms
Karla's 3 Bedroom apartment has plenty of space! The kitchen is large, open and has plenty of counter-space. We never had to worry about getting in each others way!
Likewise, the bedrooms were also very large. So there was plenty of room for luggage and to set up a playpen for the baby!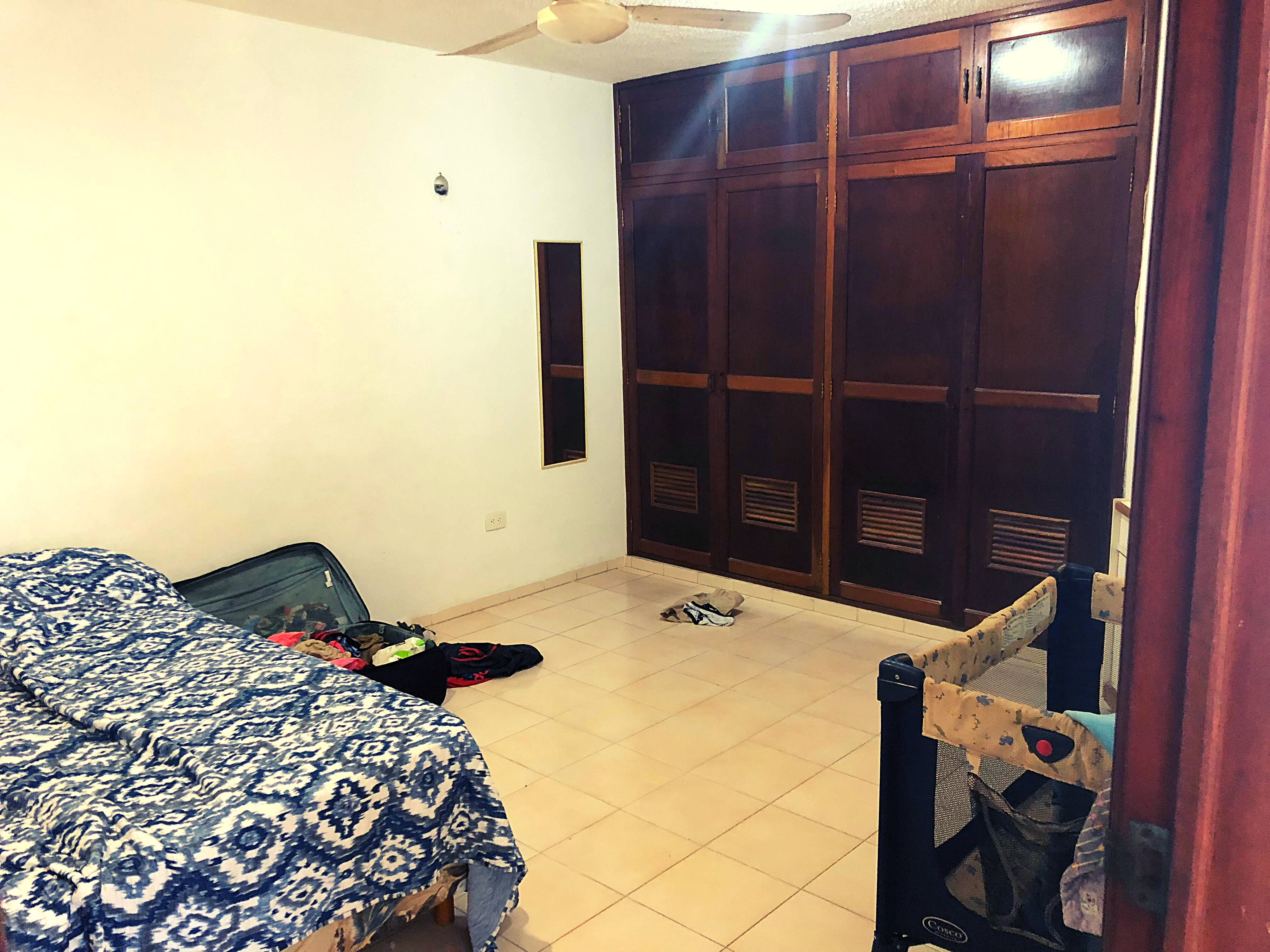 Another nice plus was having 3 bathrooms! We only used 2 of them since the 3rd was more a laundry/bathroom…it had a toilet, shower, and sink so definitely usable. We simply didn't need it since there was a ensuite bathroom and a main bathroom as well.
The apartment is a little older. If you are looking for a new or modern place, this may not be the right fit for you. Regardless it was clean, well equipped, and the size and price made it good value in my opinion. And that view was priceless!
*Laundry
Unfortunately, this unit has no washer or dryer. However it does have a laundry room/ bathroom with a sink to wash out clothing and clothes line. The few items we needed to wash, we washed by hand and hung to dry. It was easier and quicker than finding a Laundromat.
*Pool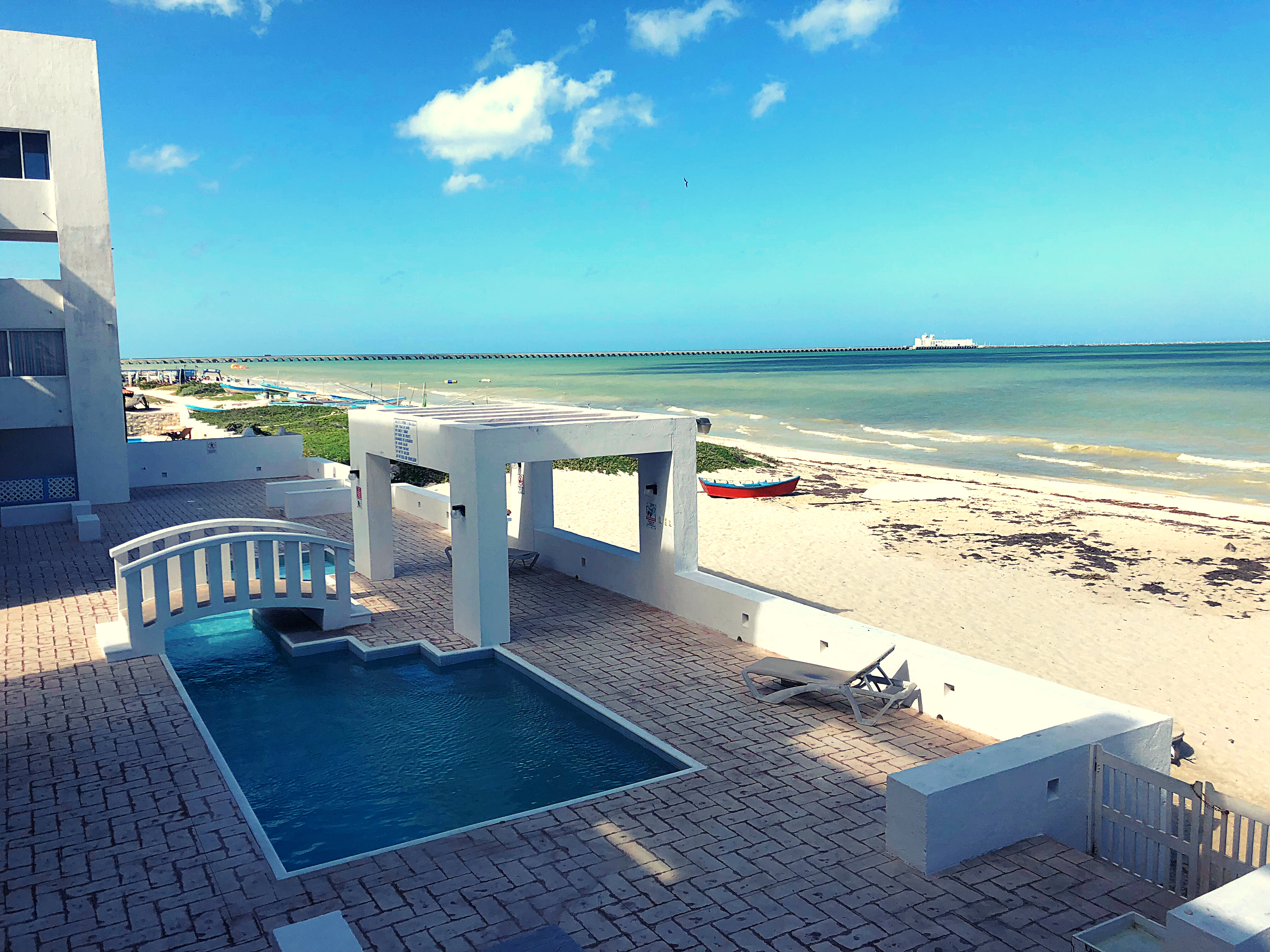 The Pool was nice looking but freezing! The ocean was much warmer so I just swam in there. The kids didn't let the chilly water bother them of course and went in a few times. The majority of the time we just walked out onto the beach and into the ocean though.
*A/C
Air Conditioning in the Master Bedroom only – the other two bedrooms did not have a/c but did have fans. My kids slept fine with the ceiling fan on. My mom and her friend were in the 3rd room and found it hot a few times. This 3rd bedroom had a small window but it opened towards the back of the building and therefore didn't catch that ocean breeze.
*Beach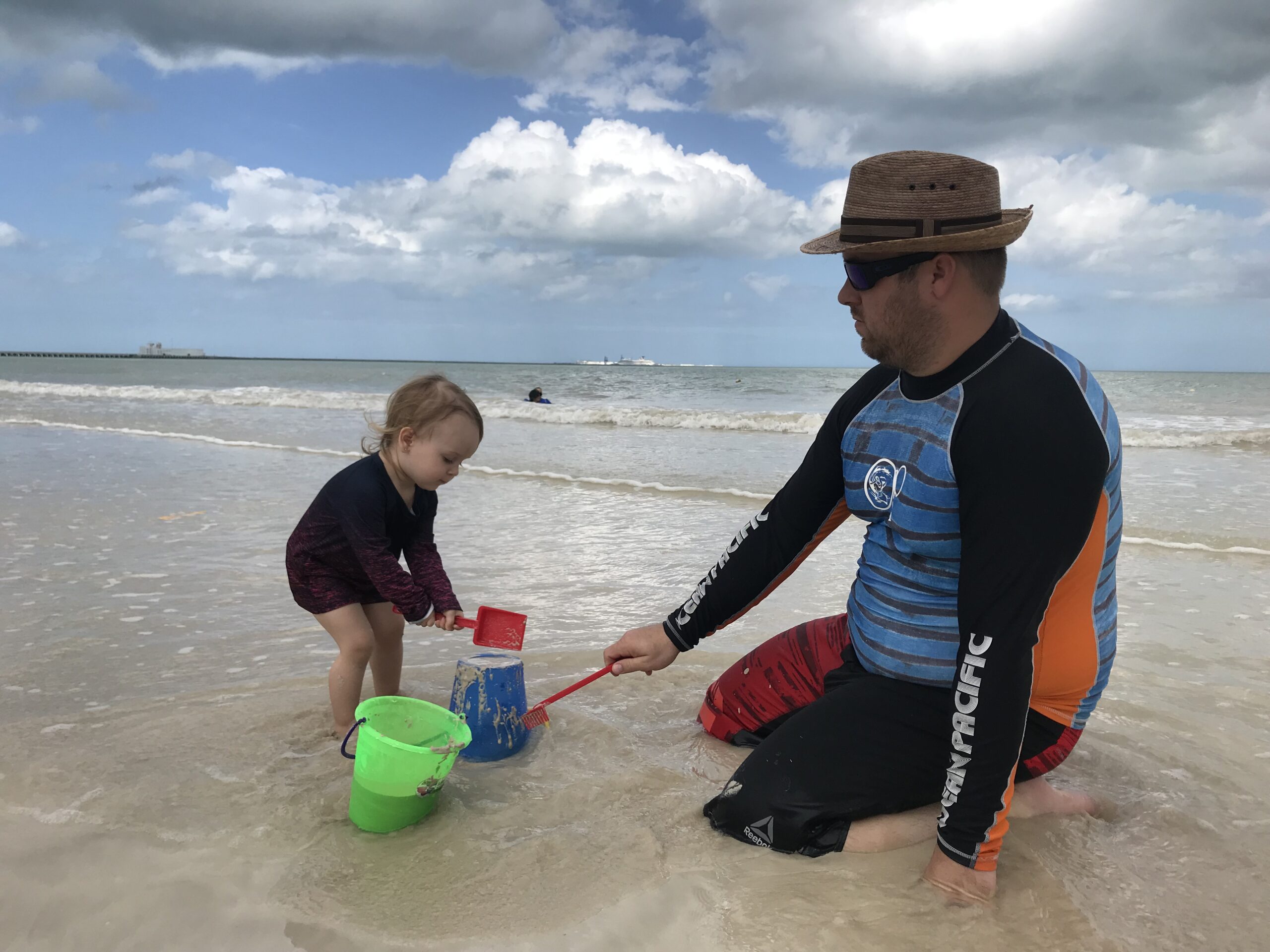 The best part was being beachfront and having that gulf ocean view! The sand was quite fine but there were some shells and coral (and even a few chunks of concrete) in some spots. But just watch where you are walking! I often walked out in bare feet and was fine. A major perk for being beachfront!!! (It is terrible having to wear socks most the year at home in Canada!)
*3rd Floor
Being on the 3rd floor was a pro and a con! Grudgingly, we did have to drag our luggage (and kids) up several flights of stairs. But we took our time, made several trips so we weren't too strained, and got some exercise! Yeah, I know I'm putting a positive spin on it! But, like most people, I'm happier when I think positively! Haha! Honestly though, it was a small inconvenience for the emerald water view we got out of it!
**Do watch out on those stairs when you (or the stairs) are wet though! They are slippery! I had to warn my kids to take it easy several times.
3 Bed Beachfront Summary – Airbnb Progreso, Mexico
Pros:
Oceanview
Beachfront
Spacious
Great location – walking distance to Malecon, downtown, shops, restaurants
Air Conditioning in Master
Pool
Security, gate locked at night
Parking
Quiet, residential neighborhood
Cons:
3 flights of stairs, slippery when wet
Cold pool
No a/c in other bedrooms or living area
Older building
No Washing machine or Dryer
Some coral and concrete in sand on beach
This Airbnb has everything needed for a family. Plenty of space, great location, magnificent view, pool, air conditioning (in the master) for my other half, and security. So what are you waiting for???! Book for a relaxing Yucatan vacation now!
The first time we visited Progreso, Mexico we stayed in a 2 bedroom ground floor apartment. It was quite new and modern looking. All the units were developed around a central common area with pool, tables and beautiful greenery.
This Airbnb apartment had no sea view (being on the main floor) nor was on the beach. However it was only ½ block or less from a beach entrance and being on the ground floor meant there were no stairs to climb!
Location
This 2 bedroom apartment was just across the street from the 3 bedroom, beachfront place and about ½ block closer to the Malecon and downtown. Similarly, it is located in the same quiet residential neighborhood but within walking distance to all the action!
Amenities of the 2 Bedroom Airbnb Progreso, Mexico
*Rooms
The two bedrooms were roughly the same size. Each had a queen bed (at the time, now the 2nd room has 2 single beds), and closet. Only the master bedroom had A/C. There was also a fan and some board games in the room we put the kids in. Also, there was plenty of extra space to setup a travel crib (or pack-n-play) and for our luggage.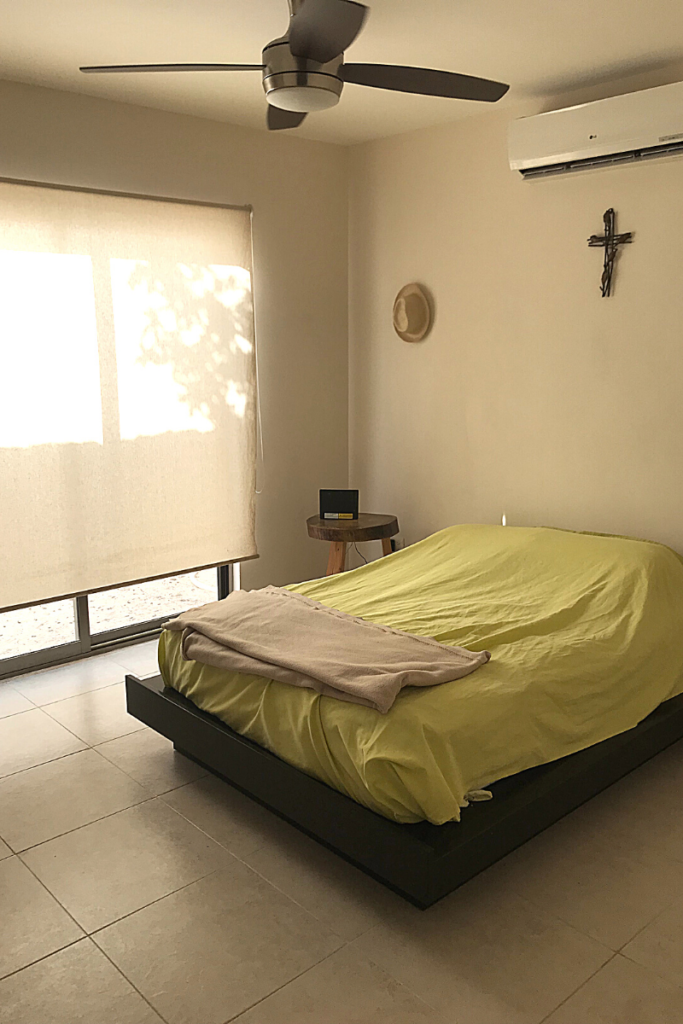 Conveniently, the bathroom was in between the 2 bedrooms and was clean and had some extra amenities like soap, toilet paper etc. Items that often we needed to buy in other Airbnbs.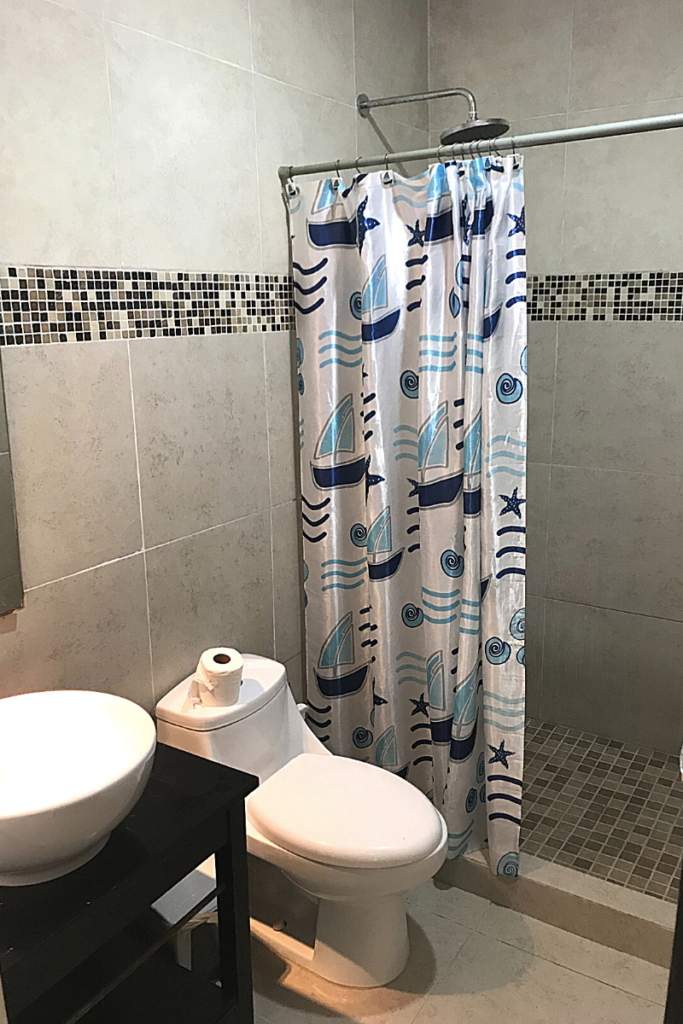 The kitchen was fully stocked – it even had wine glasses! I loved the granite countertops and it was an added perk to have a full 4-gallon water bottle supplied!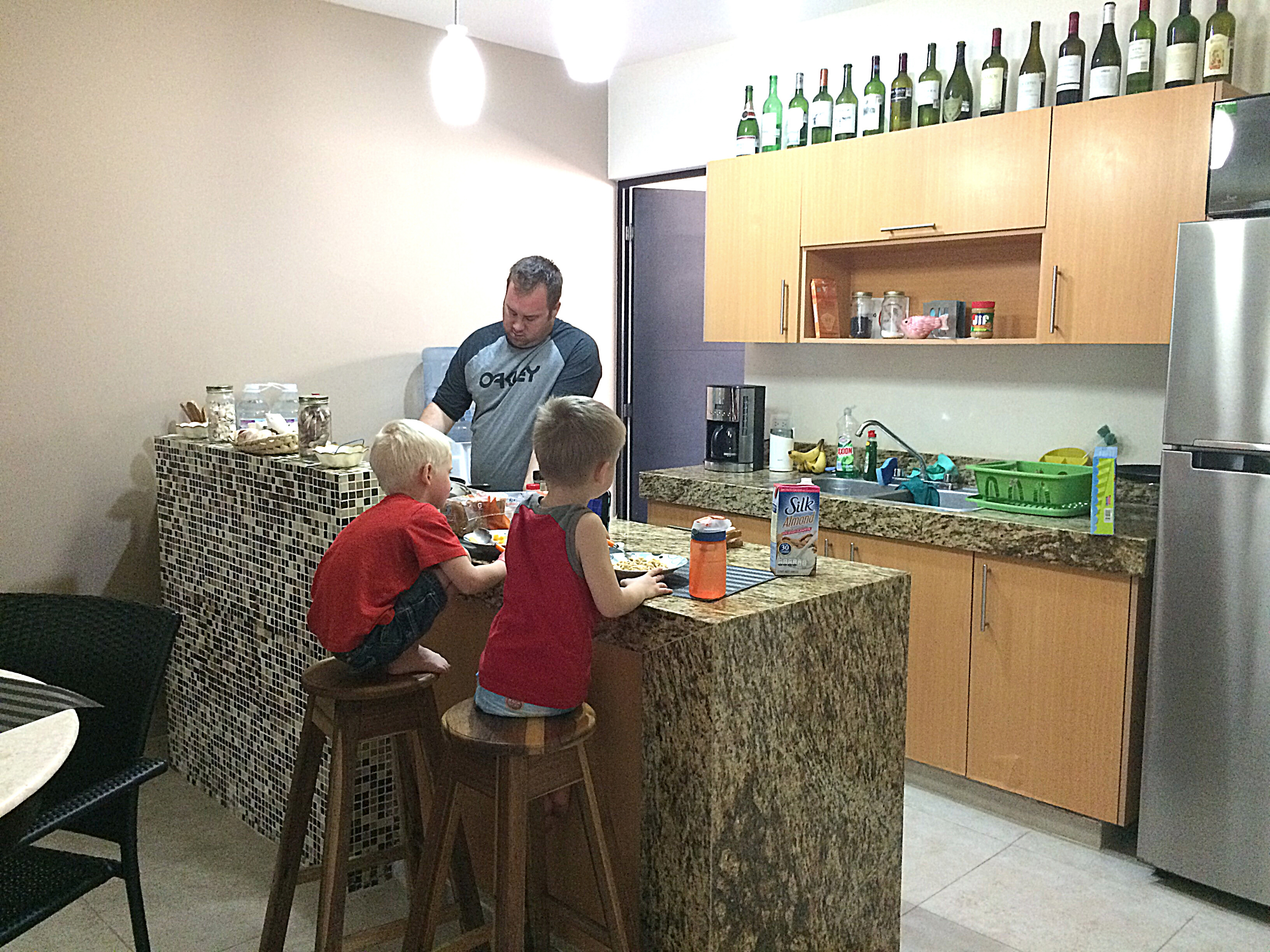 The living room was right inside the front door. The tv was quite small – it didn't bother us since we don't normally watch much tv on vacation. However, it is something to keep in mind if you really like tv and having a big screen. And, there is only the one small flatscreen tv. (None in the bedrooms).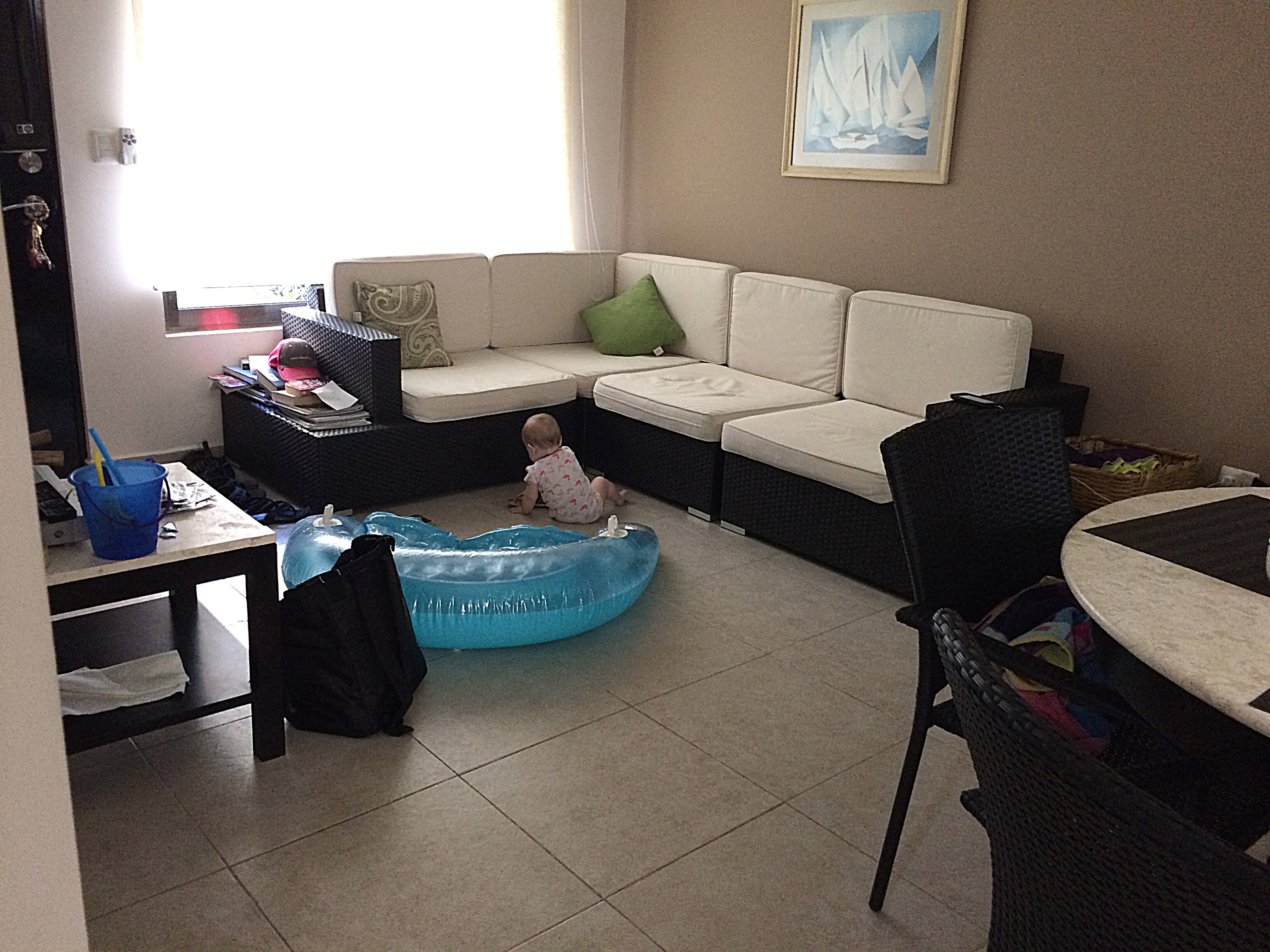 *Laundry
Directly behind the galley kitchen is a small laundry room. It contained a washing machine and a line to hang clothes to dry. This room also had a window and seemed to get some sunlight so it helped our clothes dry quickly. After all, it's disappointing when they take too long to dry and start smelling funky.
*Pool/Courtyard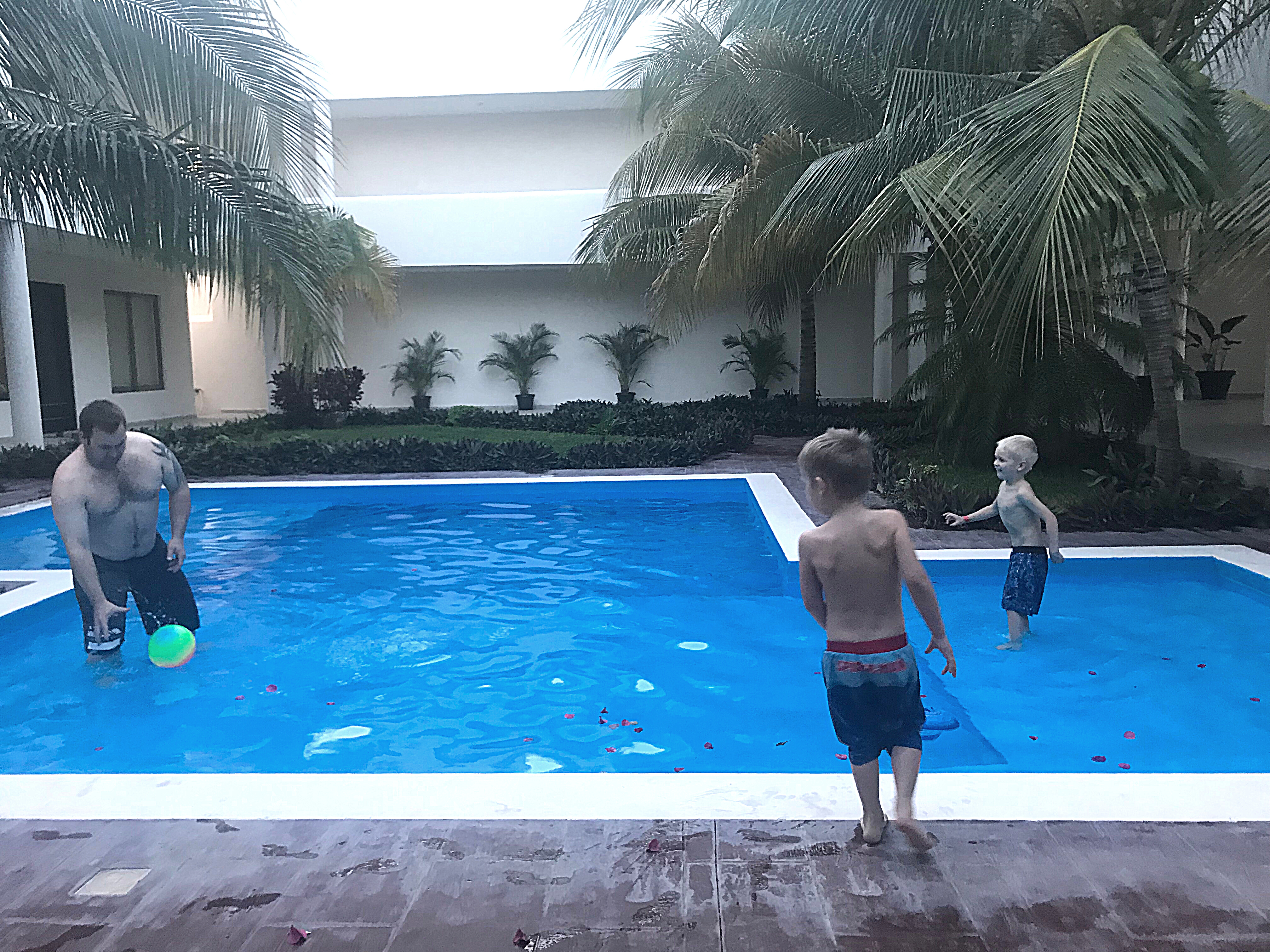 I liked the layout of the buildings. The apartments formed a square around a central courtyard where there was a pool, some greenery, and a common area with a few tables. It was beautiful and had a serene peacefulness to the place. We often had the common area and pool to ourselves – although I wasn't brave enough to go in the the water! Like most kids, the cold didn't intimidate our kids though!
2021 Update: Honestly, there are now several other units available for rent in the same building. I would now go with this unit on VRBO since it has A/C in the main living area (which can get a little stuffy during the day)
Summary of the 2 Bedroom Airbnb: Pro's and Cons
Pros:
Great location
Pool
Security
Quiet Neighborhood
Parking
Modern
Washing Machine! and clothing line in laundry room
Ground Floor
A/C in Master
Free 4 Gallon water bottle
Board Games in closet
Cons:
No Ocean view
Not Beachfront
Cold, shaded Pool
No Dryer
No A/C in main living area
All in all, this rental was a great property. It was clean, modern, and stylish. We really were on the go so much that the little time we spent in doors was mostly to eat a quick breakfast and sleep.
A few days we actually hung around to relax but we were out in the courtyard while the kids were in the pool. We still were at the beach most days since it was so close by but would usually walk to the malecon so we could be served (we all need to eat!) while the kids played in the sand. After all, they make the best guacamole and mojitos!
Similarly to the 3 bedroom vacation rental, this Airbnb had security with locked gates at night, parking, was quiet yet close to everything needed. It was second row from the beach so the sand was literally steps away.
Click here to book this Airbnb now.
3 bed and 2 bed Airbnb Progreso Comparison
| | | |
| --- | --- | --- |
| | 2 Bedroom | 3 Bedroom |
| Price (per night)* | $70 CAD (~$50 USD) | $100 CAD (~$70 USD) |
| Bedrooms | 2 | 3 |
| # people | 4 people – Queen bed in master; 2 singles (or push together for a double) in other bedroom | 6 people – King bed in master; 1 Queen in each of other 2 bedrooms |
| Bathrooms | 1 | 3 |
| Laundry | Washing machine and clothes line | Sink and clothes line |
| Pool | Yes (cold!) | Yes (cold!) |
| Beachfront | No | Yes |
| Oceanview | No | Yes |
*prices were current in 2018/2019 and may have changed
Both places were very close to each other (within ½ block) and to the beach. They are in an awesome, quiet neighbourhood yet walking distance to the Malecon and downtown.
Now you just have to decide if you want smaller and more modern, or the extra space with a view!
Or get this similar 2 bedroom that has A/C in the main area as well (this was not an option when we went in 2018).
Not sure if either of these options fit what you're looking for?  Find other vacation rentals on Airbnb, VRBO, or booking.com. I can't wait to go back and try a new spot! 
Let me know if you visit Progreso or book one of these Airbnb's!
Take care,
Rachel