I love finding family vacation spots that are off the beaten path and cheap! Always on the lookout for places that are new and affordable, I found Progreso, Mexico. But, I'll start at the beginning.
*This post was written about our vacation in Progreso three years ago, and updated when we went back again two years ago!
This past Christmas, we decided to skip presents and take the kids on a vacation to Mexico! We were all more than happy to escape the cold! I love turkey dinner…but tacos and mojitos on the beach was a good compromise. 😉
Since the holidays are usually an expensive time to travel, I started planning by finding the cheapest destination to fly to from our home in Canada. This ended up being Cancun.
Hubby and I had already vacationed in both Cancun and Cozumel, but only had stopped shortly in Playa Del Carmen. We had loved it and always wanted to go back. So, I planned to stay there for 1 week and started looking at the map to find someplace new nearby.
I looked along the Yucatan's gulf coast and soon spotted Progreso, about 4 hours drive from Cancun.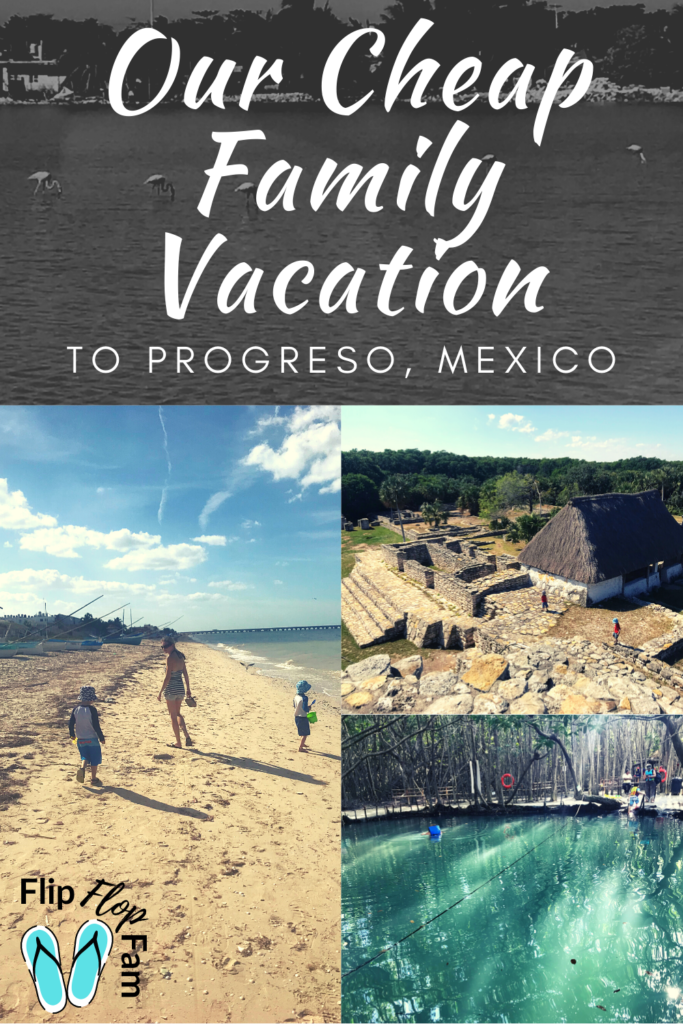 Renting a Car in Cancun Airport
We landed in Cancun airport at 5:45 am feeling like zombies! I will never (and I suggest you never) take an overnight flight will little kids again! Not only was I sore from holding a sleeping baby and having a 4 year old laying on one leg, but I also was running on no sleep. And, of course, the rental car shuttle counter was not open until 7 am plus there weren't any restaurants in the departures area. So much for my nicely imagined plan to land, have breakfast, then grab our rental!
Luckily I speak Spanish and was told we could hop on another shuttle (operated by a different rental car agency) to get to ACE/FOX/MEX (all the same company by the way).
***Tip: If you want to know how much you will actually be charged for your rental vehicle, do not rent from ACE/FOX/MEX!!!
Unexpected Rental Costs!
I thought I was getting a steal of a deal on Expedia, when I rented a full size car (VW Passat or similar) from ACE Rent a Car for $164 CDN. But, I knew I was taking a gamble since I had looked up reviews and they weren't that great. Bad decision on my part. Being a cheapo didn't pay off this time!
I highly suggest if you do rent a car, to pick a company with good reviews (they will seem more expensive) and buy your insurance ahead of time. That way you won't be surprised by the charges. We ended up paying $460 USD (probably close to $600 CDN) instead of the $164 CDN we were quoted (without insurance). And we didn't get a Passat.
Wrong Rental Car Agency Counter!
Since my reservation was with ACE, I waited around unnecessarily. ACE/FOX/MEX are all in the same area but there are three different counters for each of the three. Only the counter labeled "MEX" was open. After waiting around hoping the ACE counter would open, I finally asked over at MEX and was told they were all the same company! This was confusing and I was annoyed that we had wasted all that time with 3 grouchy children and way too much luggage!
Lunch Break in Merida: Capital of the Yucatan
On the road we went, stopping for gas and snacks. I would have liked to explore Valladolid (which is about halfway between Cancun and Merida) but we were exhausted and the kids were sleeping. If you're a mom, you'll know that you NEVER STOP if your children are sleeping!
Update: We stopped in Valladolid the following year. Read about Valladolid here (on my other website)!
Navigating Downtown Merida, Mexico
Having read so much about Merida, we stopped. Hubby was stressed navigating the streets full of people and traffic while I tried to read my too tiny google maps I had printed! In case you ever get lost in Merida, the main plaza intersects at calle 61 and 60. Calle is Spanish for street. Odd street numbers run east to west, while even numbers run north to south. Or you can download this map of downtown Merida.
The kids were hot, grouchy, and overtired. We parked in a parkade (estacionamiento) for 7 pesos/hour (about 50 cents) then walked about 5 blocks or so to the central square.
I had big plans to do a horse tour, see the Paseo Montejo, and the city's historic buildings, but we ended up only eating and heading back to the car. I have a list of "to do's" if we go back to Merida and next time I would stay at least a night or two there. Then again, it is a busy city, and our kids just wanted to get to the beach.
Lunch and Sorbet in Merida
In Merida, we had lunch at a restaurant on the main square right beside the Sorbeteria Y Dulceria Colon. My enchiladas were good but too spicy for me. We then went next door for sorbets. Guanabana (soursop in English) is my favorite and didn't disappoint! I highly recommend stopping if you ever find yourself in Merida, Mexico!
I will definitely go back to explore one day (with older kids!).
Update: We ended up going back the next year and stayed for 3 days! The kids did fine. ☺️
---
6 Day Itinerary: Where We Ate & What We Did in Progreso, Mexico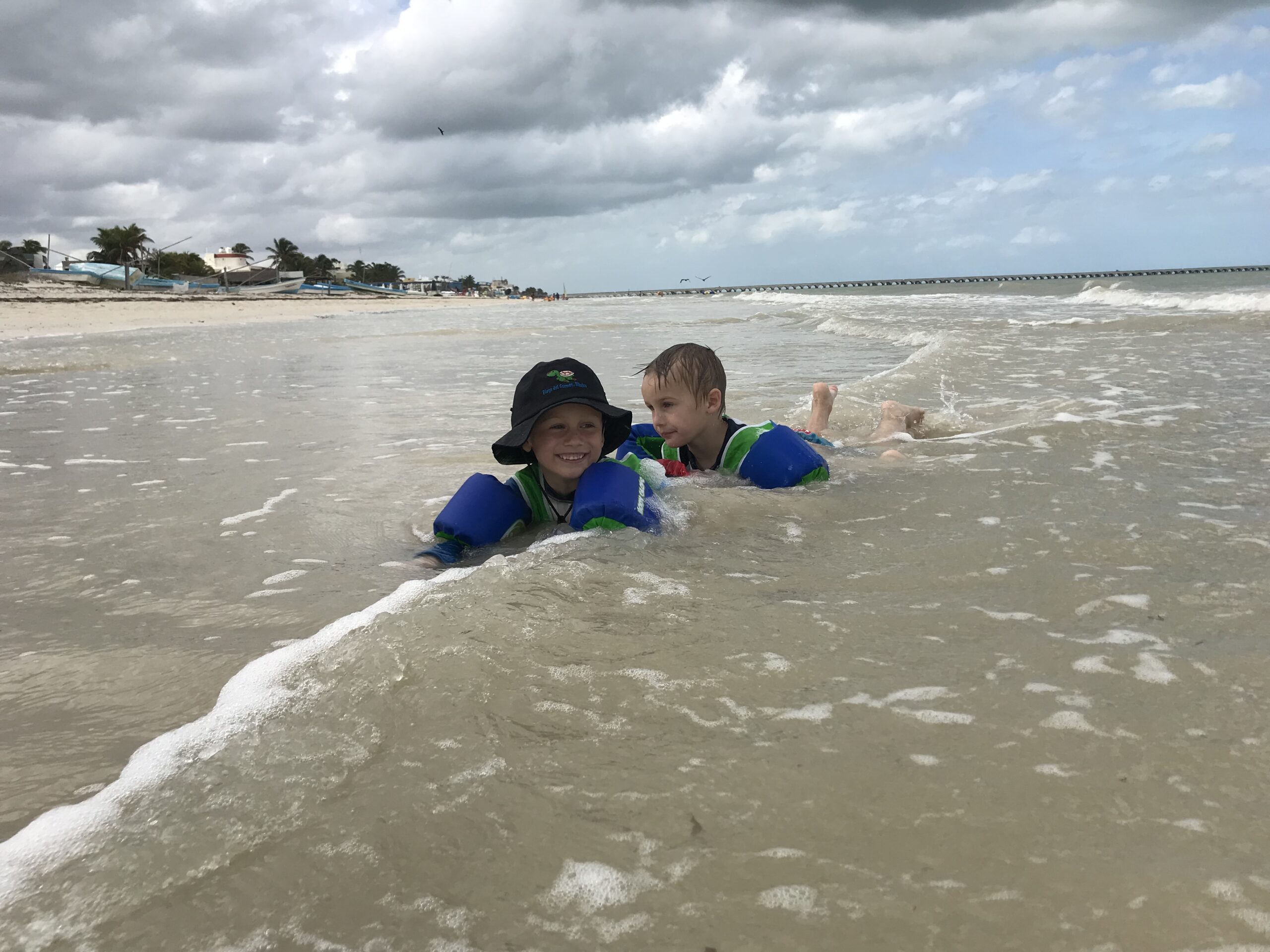 Day 1 – Getting Settled in Progreso
Arriving at our Progreso, Mexico AirBNB
We arrived in quiet Progreso and had no problem finding the condo we had rented off AirBNB.  AirBNB is definitely the way to go when you have little ones.  It is so nice to have a bedroom or two as opposed to a hotel room.  And it's cheap!  We ended up paying about $70 CDN per night for a two bedroom that was about half a block from the beach!  It was a 4 block walk to the end of the malecon (seaside boulevard) which is lined with restaurants and stores.  So it was a great location as well!
Here is the place we reserved.
*I highly recommend staying someplace close to the Malecon and the center of town.
Read about the vacation rentals we stayed in while in Progreso!
Supper at La Antigua
After dropping our bags at the rental, we were starving (again)! We started walking down our street towards the center of town where all the action is. Everything else around was quiet and residential. After 4 blocks, we spotted the first restaurant – La Antigua.
It was located in a re-done colonial style home complete with a veranda around the entire place (on which you could dine). A pool was in the back with a large gazebo and bar area. The food was amazing and portions were huge. Out of the restuarants we seen in Progreso, La Antigua was one of the classiest (and pricier…yet still about the same prices we would pay here in Canada). It would be my pick for a nice date night!
Tip: Try the Horchata and fresh fruit juices! Horchata is a sweet milky rice drink flavoured with nutmg and cinnamon. My kids loved it!
"Progreso" Sign on the Malecon
Since La Antigua was located a block from the corner of the malecon, we walked the 1 minute to the "Progreso" sign and the beach. We thought a few family pictures on the beautiful, breezy, evening were in order. The kids were happily running around and we were loving the warm, ocean air. Then suddenly I noticed my little guy was waddling. I felt a tinge of panic! Sure enough, he shit his pants!
It doesn't seem to matter how many times you ask them to use the washroom! Someone is sure to have an accident at the most inconvenient time! As most Moms do, I had wipes in my diaper duffel and cleaned him off as inconspicuously as I could, then we hustled back to our new temporary home!
Day 2 – Groceries & Progreso Beach
Breakfast at Flamingo's on the Progreso Malecon
We went to Flamingo's on the Malecon for breakfast! Breakfast was delicious and we loved the palapa roof and beautiful sea view. I had the French toast which was delicious and came with a small side plate of fresh fruit, coffee and orange juice for under $10 CDN (even less in USD).
Grocery Shopping in Progreso, Mexico
Next we headed to the Super Aki on calle 80 to buy the necessary things for our vacation rental. Note: Wait and buy your sand toys at the beach! They were less than half the price as the supermarket! We spent $50 pesos (just over $3). Then we went off to the beach!
Beach time on the Progreso Malecon
We headed to the middle of the Malecon where there were little huts set up on the beach. It was about 9 blocks, but the kids didn't seem to mind. They were troopers carrying their sand toys and were probably happy they were out of the snow and cold weather! We have an awesome stroller that kept baby comfy and protected and had room for our loads of stuff. Plenty of storage makes life so much easier and is essential for a good vacation!
We plopped down at the first palapa (little thatched umbrella looking thing with table and chairs underneath) we saw. The Palapas on the beach are owned by the restaurants across the street, so you do need to order something to use them. Servers would come by to take orders. We usually ordered a pina colada or mojito and enjoyed the beach for an hour or so, then ordered a meal.
Carabela's was the name of this restaurant and I can't rave enough about their food! I highly suggest the coconut shrimp! It was sooo delicious and comes in an actual coconut half. Every dish we tried there was awesome! And I could eat the guacamole with a spoon!
We enjoyed the walk back, then the kids jumped in the pool (which was freezing!) with Dad. Note: If your pool is shaded, it may be too cold to use!
For the 6 days we were in Progreso, Mexico it was calm in the morning then the breeze would pick up in the afternoon. The beach was a perfect temperature for sun bathing and playing in the sand, but even the kids would get cold once they were wet.
Day 3 – Touring the Town of Progreso, Mexico
Coffee at Barlovento
My awesome hubby was making popeye eggs and coffee for me by the time I dragged my butt out of bed! Ah, I'm not even a big coffee drinker but I love the fresh ground, local, Mexican coffee! We got our terrorists, I mean children, ready as quick as we could and headed in the car to drive around the town.
Down the Malecon we drove until it curved and turned into Calle 80 (the central street). We followed that up to a square where the Catholic church is located and parked. From there we walked back down Calle 80 towards the Malecon and checked out the shops. We couldn't resist stopping at Barlovento Coffee for some awesome frappes!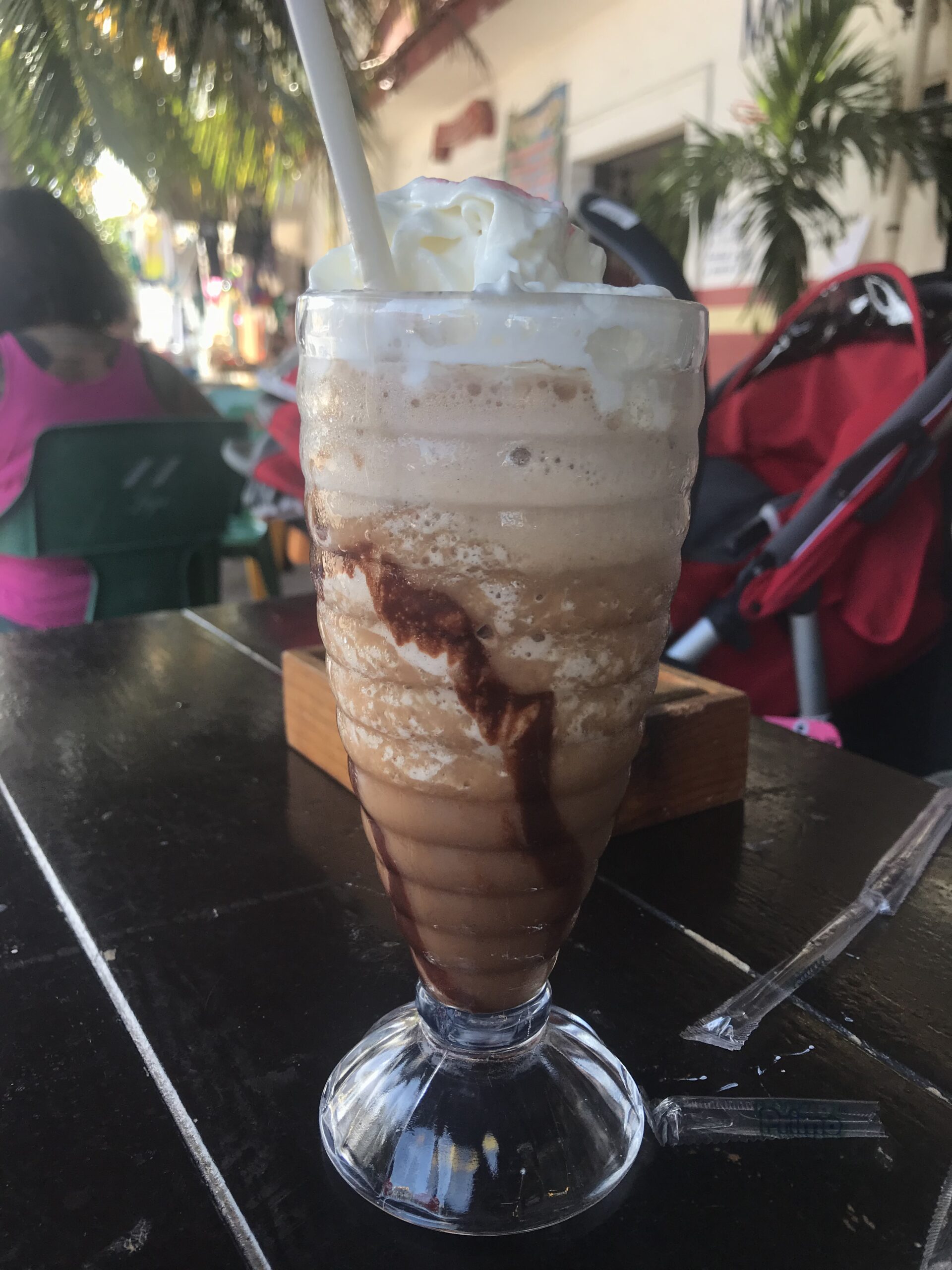 Progreso Market (Mercado)
Working our way back up the street towards our car, we stopped at the big blue market ("Mercado"). It is full of little shops, fresh produce, flowers and contains a food court in the middle. The boys were able to play an arcade game for $1 peso and ride a little rocking car for $2 pesos. Score! It was cheap and they couldn't be happier! Then we headed to the food court for some tacos ($13 pesos each, about $1 CDN), enchiladas suizas, and pancakes 🙂
Supper at Maya-Ka
After some pool and relax time at our beautiful spot (and catching up in my travel log), we went back down to the Malecon to try out Maya-Ka for supper.
Maya-Ka is located beside Crabster and has a pool in the center. The ambience was very boho and relaxed with hanging lights, lanterns, and fun Mayan décor. I loved the look of the place!
The drinks were fantastic, however the food was not great. Service was also extremely slow…maybe because it was Christmas holidays.
We waited an hour after our initial drinks, with no waiter around or food in sight. After asking about our food, the manager apologized and mentioned they were short staffed and very busy so I understand maybe they don't always have slow service. This time our food came quickly, but the nachos were soggy and a platter of finger food was slightly burnt. Either way, I would go back to give Maya-Ka another chance. I would also recommend going in the afternoon when the sun is out so you can enjoy the pool in the heat of the day!
Tip: If you have a rental car, most of the restaurants along the Malecon have parking lots behind them off of Calle 21.
*Note: If you are normally cold like me, be aware that the wind off the ocean picks up in the afternoon and once the sun goes down it can be cool in the evening. To be comfortable, I usually needed a light, long sleeve sweater or cardigan if I was wearing a dress or even pants and a t-shirt. I just assumed I could always go out in a sundress or tank and shorts but I found myself wearing my nursing cover a few times to stay warm! 😀
Day 4 – Beach Day on Playa Progreso
I had researched a bunch of things to do in and around Progreso, but when it came down to it, we would wake up each day and decide what we wanted to do. To really enjoy our vacation, I've found we need to be careful not to cram too many activities in!
Drinks under a Beach Palapa
Since we couldn't wait to go back, we headed back to the beach and grabbed one of Carabela's huts. Try the Fresa Coladas (strawberry coladas) or Mojitos! They are both delicious! Baby slept away in the buggy while the boys played in the sand, allowing Mom & Dad time for a drink and relaxation.
We finally broke down and bought a selfie stick for $100 pesos which has proven to be a very useful buy. It is so nice to be able to get all of us in one picture now!
Being sunburnt, we walked "home" all slightly miserable. Even my hubby was red as a tomato…and he was under the palapa almost the entire time! Typical Canadian! I deserved the burn as I hadn't put any sunscreen on and was in direct sun all morning. Oops!
Supper at Eladios (by the Progreso Pier)
After lazing around (and pounding back some water), we headed to Eladios for supper. Eladios is on the corner of the Malecon and Calle 80, close to the cruise ship pier. It was a nice and large place with various seating sections. There were different levels inside, outside seating on a patio overlooking the ocean, tables down on the beach etc. There was even a pool down on the sand.
Impressively, the waiters bring out 5 complimentary snack plates. Each contains 2 tacos done in different ways. Two of them we really loved, while the other three we tried but didn't really like. However, on a tight budget, a couple could simply buy a drink and get filled up on these appetizers or "botas", as they are called in spanish.
Day 5 – Xcambo Mayan Ruins near Progreso, Mexico
After breakfast, we headed down hwy 27 along the coast, towards Telchac Puerto. We were going to Xcambo ruins about 30 kms away from Progreso.
How to get to Xcambo Ruins
As you are driving on hwy 27, you will take the first highway you see on the right. It was not marked coming from Progreso. Once you have turned onto this road, there is orange or pink hued water on the side of the road. These are the Laguna Rosada salt flats. Not far down this road, a sign saying "xcambo" will direct you to turn right. Drive until the end of the road where there is a parking lot and small hut. Pay the man the entrance fee ($65 pesos/adult, kids were free) then you are free to roam around.
Xcambo ruins were the perfect size for having little ones in tow. All the main ruins were clustered close together making it easy to navigate with the stroller. It was Christmas day and we were the only ones there. What an experience to have them all to ourselves!
The boys had a blast touring around and finding iguanas. I climbed the largest pyramid and could see right to the ocean over the jungle. It was a spectacular view! We spent a good hour or so here. I was happy not to walk miles and drag whiny, hot, little kids around!
Chicxulub Area
On the drive back, we went off hwy 27 on to one of the little sand roads to see some of the beachfront homes around Chicxulub. They were lovely and many were for rent. It was so serene out there and would be perfect if you like quiet and being away from hustle and bustle. But, I was happy we rented directly in Progreso so we had easy access to restaurants without driving.
Lunch at Restaurant Los Cocos in Progreso, Mexico
Being Christmas day, Progreso was busy on arriving back! We had to drive around a few minutes before finding a parking spot, then walked to find someplace new for lunch. We stopped at Restaurant Los Cocos on Calle 80 and about 1 block from the Malecon. My meal of fish fried in garlic came with fries, rice, platano, and pickled onion. Everything was delicious as usual.
Shopping in Progreso, Mexico
With full bellies, we walked down the street to look at some shops. I bought a beautiful tank top for $100 pesos (about $7 cdn) and a cute embroidered dress for our baby girl for $250 pesos. Then the boys picked out a cute shirt each, one with a shark, the other with a dolphin. Don't be afraid to barter! Personally I am quite cheap and usually like to pay between $5-$10 for a shirt. Even the beautiful dress with embroidery was less than $20.
We couldn't resist stopping for another frappe at Barlovento!
Pizza from Domino's
Once home, I ordered Domino's pizza online and had it delivered. It cost $189 pesos (roughly $13) for the pizza with delivery! Just don't expect pizza in Mexico to taste like it does in the US or Canada! Sometimes the crust is thinner, and normally the cheese is a little different than what we are used to. I still enjoy it, just the flavor isn't quite the same as at home.
Day 6 – El Corchito Ecological Reserve, Progreso
Lunch from the Milk Bar
Right after breakfast, we walked down for our last day on Progreso beach. This time, we opted for a hut in front of the Milk Bar. We dropped our things and kids, and grabbed a chair. An American gentleman was lounging beside us, and when I asked about the food, he told us we would never get a bad meal from the Milk Bar. He also told us it was owned by a Texan named Charlie.
The Milk Bar menu was impressive and extensive. It included other types of food besides your typical Mexican dishes and even had healthy smoothies. I ordered a ham bacon turkey sandwich called "el tocino" and hubs had a burger with steak strips on top. The Horchata, Mojitos, and fruit smoothies we ordered were also excellent. Can you tell I love food yet???!!
Real Estate and Expats in Progreso, Mexico
We had quite a chat with the American fellow ( whose name I failed to get). He told us about the local housing market, rental potential, and all the expats in the area. He also mentioned to beware of realtors as many are just out to take advantage of whoever they can.
I like scouting out potential vacation rental areas. It would be nice to be able to make some extra money, and one day be able to live off of rental income. Plus, its a great excuse to go on more vacations! 😀
Is Progreso, Mexico Safe?
Charlie, the Milk Bar owner, was very friendly and mentioned Progreso is the 2nd safest city in the world! Not sure if that is true, but after a google search I found close-by Merida on a list as one of the safest cities in the world.
Afternoon outing to El Corcito Ecological Reserve close to Progreso
We walked home to get ready for El Corcito ecological reserve. Then, drove through Progreso to hwy 27, and crossed it to get over to the reserve's parking lot. Going to El Corcito was a steal of a deal. Each adult costs $35 pesos (just over $2 Cdn), little kids are free, and older kids are $20 pesos. It includes a short (maybe 3 minute) boat ride across the river into the mangroves.
Once you are let off, there are little sand trails and bridges throughout the mangroves between 5 different cenotes. A canal runs through the middle in which there are loads of minnows. The water was crystal clear and there were plenty of cuoti's (small ant-eating rodents with long tails) and raccoons.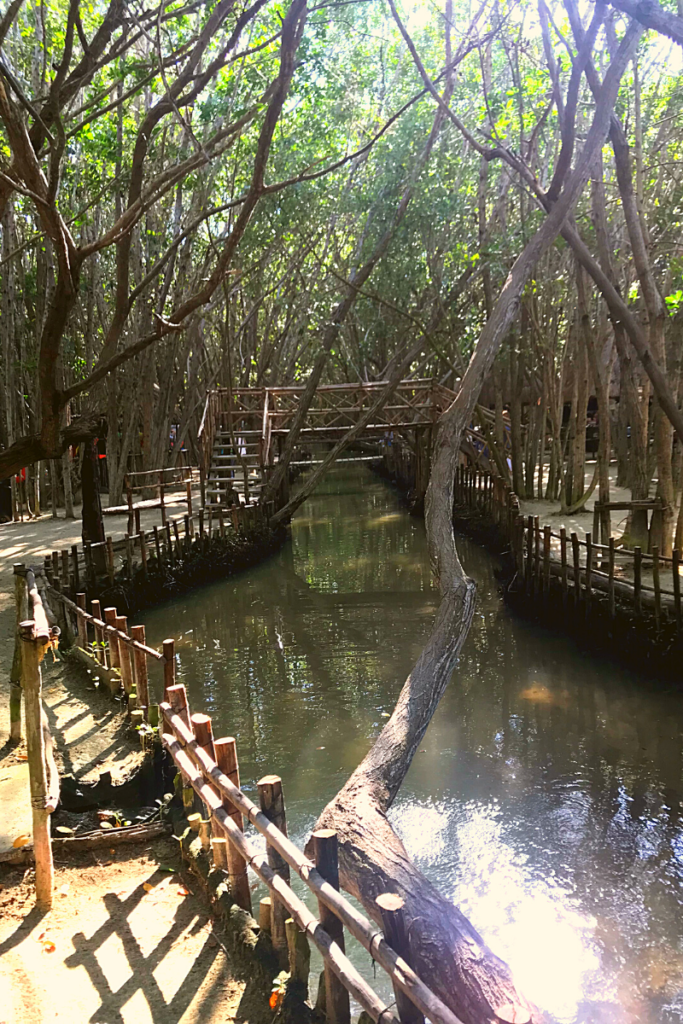 Cenote El Corcito was the closest to the boat docking area and was large but murky.
Behind this, there was a trail leading to Cenote Venado. This cenote was super clear with two little turtles swimming in it. A sign stated not to swim in this cenote.
Back out to the main area by the dock, across the canal were washrooms and two more cenotes. One was the size of a hot tub, and the other medium sized.
Straight through, on a trail along the canal, was the largest cenote. Cenote Pajaro.
Swimming in Cenote Pajaro
Cenote Pajaro was the only one we swam in. It had picnic tables, seats, and hammocks around it and even a little shop selling air tubes and such. We brought our own floaties however. It was nice that this cenote was large and open enough to get some sunlight. The kids were swimming around in their floaties (like these ones), and even baby loved going in hers. It wasn't freezing like many below ground cenotes are. El Corcito was definitely a highlight and worth every penny. Or peso.
A few tips: Remember to bring bio-degradable sunscreen and insect repellent! We felt quite a few mosquito nibbles being in the shade of the mangroves. Also, do not touch or feed the animals…they may bite! One raccoon went right up to a ladies toe and gave it a nibble!
Supper at Lena Y Mar in Progreso, Mexico
For supper, we wanted to try Crabster. It looked like one of the classiest places around (along with La Antigua) and the food was supposed to be excellent. There were so many people waiting for a table however, that we headed down the street to Lena Y Mar – an Italian Restaurant.
If you want a good pizza, definitely try Lena & Mar. They had a stone pizza oven and made awesome, thin crust, fresh pizzas! On the other hand, I don't suggest ordering pasta. I ordered Fettucine Alfredo and hubby had the Carbonara, but both dishes had no flavor. The Sangria was delicious however! And, I was warm since the restaurant is enclosed, protecting us from the wind.
Progreso, Mexico UPDATE:
We went back to Progreso Mexico this past Christmas (2018 & new year 2019) and the town had way more tourists than the previous year!!! This little gem is being discovered!
Check out the beachfront vacation rental we stayed in! It was older than the Airbnb we stayed in the previous year, however I loved the oceanfront view and beach out our door!! (coming soon – sign up for emails to get notice when its published!)
This time, we spent a night close to Chichen Itza, a night in Valladolid, a few nights in Merida, and our last few days in Puerto Aventuras which is a gated community close to Playa Del Carmen. It was awesome to be able to explore all the places we had wanted to the previous Christmas!
Grandma offered to babysit, so we hit up Crabster and it was amazing! The appetizers and entrees were delicious and the drinks were massive!
After our meal, we walked the malecon and ordered some street churros while we people watched and enjoyed our kid-free time.
One afternoon, we headed out to show my mom the way to Xcambo and then kept going to check out Telchac Puerto. Soon after we reached the little town, we saw a dark haze, then big locusts started bouncing off our car! We entered a massive swarm of them and they were everywhere! As soon as it started, we were on the other side of the locust cloud and kept going to the center of town where we didn't even see one!
Telchac Puerto is a nice, clean little town, has an awesome beach, and some great restaurants (so I've heard!). If you like quieter, smaller places than Progreso, this would be a good alternative to stay!
Why You Should Visit the Off the Beaten Path town of Progreso, Mexico
Our family adventure to Progreso was definitely a trip to never forget! We enjoyed stopping in beautiful Merida which gave us enough of a taste to know we had to go back, and our 6 days in Progreso were packed with a mix of beaches, great food and activity. If sun, sand, cenotes and mayan ruins sound appealing – head to Progreso, Mexico!
Thanks for reading! I hope you enjoyed and gleaned something useful from my article! Have you been to any of these places? Are you planning a trip to Progreso, Mexico? Feel free to share your tips and experiences in the comments below!
Other Posts you may enjoy:
How much it Costs to Travel the Yucatan
7 Reasons you Should Visit Progreso
If you are stopping at Valladoid or Chichen Itza on the way read these:
Review of Real Mayab Hotel & Bungalows (close to Chichen Itza)
Take care 🙂
Rachel